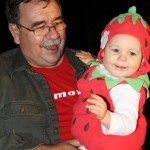 Last week, Jan Coudriet, my son David's father-in-law passed away.  He was the Director of Camp Sankanac, a BCM ministry located near Pottstown, Pennsylvania.  I heard someone say that 500 people were at his funeral Sunday night.  I know that the visitation with the family was scheduled from 4 to 6 pm Sunday and it had to be extended to 6:30 because there were so many people.  I believe they had to cut the line off to begin the funeral service.
The service was truly a celebration of a life well-lived for Christ.  There are several good things to say about Jan Coudriet.  I will mention a couple of them here.  First, Mr. "C" (as my son calls him) had been the camp director for 29 years.  This shows he loved kids and desperately wanted them to hear the gospel and turn to Christ.  No one stays that long in a ministry without being committed.  He was involved in helping ministries in China and India.  His whole life was tirelessly spent connecting youngsters (and others when opportunity arose) to faith in Jesus Christ.  Second, when my son married Jan and Beth's daughter Brielle bringing our two families together, we entered into a wonderful relationship with a new extended family.  They welcomed us.  We never had any cross words.  Jan was the epitome of godliness and deferring to others. 
The picture I have attached is a picture of Jan with Ella Stallard, the granddaughter that we share.  I say that in the present tense.  Jan is still alive.  To be absent from the body is to be present with the Lord.  One day Jan's body will be raised from the dead at the rapture of the Church and reunited with his spirit.  I will hug his neck again.  I am reminded of the words once given by D. L. Moody in anticipation of his own death:
"Some day you will read in the papers that D. L. Moody is dead…Don't you believe a word of it!  At that moment I shall be more alive than I am now…That which is born of the flesh may die.  That which is born of the Spirit will live forever."  (The Life of D. L. Moody, 554-55)
One of my personal memories of Jan was when I was doing a prophecy conference at the church he attended.  He took me to Dunkin' Donuts on a Saturday morning before driving me to the sessions that morning.  I blame him for helping me become addicted to the Turkey Bacon Flatbread sandwich!
As I was looking through the pictures of Jan over the weekend, there was one that strongly captured my attention for some reason.  It was a picture of him when he was in China on one of his missions trips.  He was standing in front of a picture of Mao, the famous, former Communist leader of Red China.  Mao killed millions of people in the name of what he believed.  In terms of how history was changed by Mao some say that he was a great man.  But as I look at the life of Jan Coudriet, I know beyond a shadow of a doubt that Jan Coudriet was a far greater man.
We will miss the big guy but we sorrow not as those who have no hope.