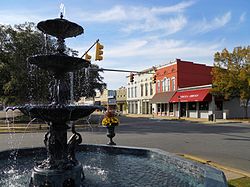 I have often mentioned in my blog entries my home state of Alabama and my affection for the Crimson Tide football team.  However, my memories of my home state are far deeper than sports and more than merely a distant memory.  I have lived in Pennsylvania now for 18 years, before that in Texas for 13 years, and before that in Virginia for 4 years.  I left what I consider to be my hometown of Huntsville, Alabama in 1977.  I remember the day well — it was the day that Elvis Presley died!   However, my first exposure to the state of Alabama was not in Huntsville, a city nestled on the Tennessee River in the north part of the state.  For a couple of years my Virginian parents moved the family to Eufaula, Alabama where my Dad worked at a military radar site.  Eufaula is a city in the southern and eastern part of the state.  It is a beautiful small Southern town located on the Chattahoochee river that separates Alabama from Georgia at that point.  In fact, my twin brother and I finished out the first grade in a Georgetown, Georgia public school just across the river.
There are many memories of those days.  I went bowling for the first time and fell in love with it.  I began guitar lessons as a little boy with, of all people, my barber!  I recall going to a parade, standing I think not far from the fountain shown in the picture of Eufaula above.  As a young kid these were all new experiences for me that left deep and lasting impressions.  I remember our little house on Sunset Drive and the playing of wiffle ball.  One of the strongest recollections I have is Dad taking me to see my first high school football game to watch the Eufaula Tigers play and win 7-0.  However, it is topped by the time my brother and I participated in some program put on by the elementary school.  For our part, we played our guitars and sang the song "A Little Bitty Tear" (recorded by Burl Ives in 1961) to a large crowd in the high school gym.  My parents were quite proud.  All of these experiences combined to make our stay in Eufaula for those couple of years a happy one.  However, there is one memory of note that is near the top and should not be left out — which is the main reason for my blog entry today.
My third grade teacher was Miss Sally Smith, an older lady who loved her public school students.  Her presence and teaching still reverberate in my memories to this day.  From time to time she comes to my mind even today fifty years later.  It is always a fond as well as a clear remembrance.  We would start the school day reading Scripture, praying, and doing the Pledge of Allegiance, things which have largely been taken away from us today.  It was there that I memorized Psalms 23 and 100 from the King James Bible as well as sections of the Christmas story from Luke 2.  I would not become a Christian until I was a senior in college, but the Lord used Miss Sally Smith to sow the seeds of the fear of the Lord in my heart which later developed into faith in what Christ had done for me.  I am thankful for these experiences.  Beyond that, she taught us to have respect for hard study and related it to pride in being from Alabama.  I remember her bragging on the University of Alabama students who were on the TV quiz show College Bowl which aired originally from 1953 to 1970.  The Crimson Tiders had done well that year.  Miss Sally Smith used that to inspire us to study hard and make something of ourselves.  This reinforced what my parents were teaching about hard work and study.  From Miss Smith, I learned to love the state of Alabama and the University of Alabama.  Later I attended the University of Alabama in Huntsville where we had moved and followed the Crimson Tide sports programs, especially football, as a dedicated follower.  My brother Jimmy visited her several years back but long after we had grown up and moved away.  She still remembered the twin boys from that third grade class.  He had the privilege of telling her that we were both in the ministry.  While several people deserve credit for how I developed including my parents and other teachers (Mrs. Ledbetter and her science interest in sixth grade in Huntsville and the historian Dr. Henry Lane Hull at UAH could be added to the list), Miss Sally Smith will always have an honored place on the list and in a treasured memory.    Elementary school teachers matter.  At least they did in my life.