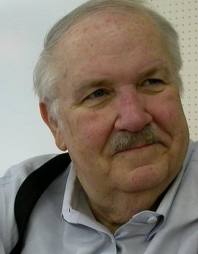 On February 12, 2013, my good friend Dr. Mal Couch went home to be with his Lord and Savior after a long battle with cancer.  I had done an audio interview with him not long ago that has been distributed on CD.  Apparently, he was busy for the Lord's work until the very end of his life on earth.
I met Mal and his wife Lacy in the early 1990s.  I was the pastor of Tabernacle Baptist Church in Arlington, Texas and was looking for a good female biblical counselor to whom I could refer the women of my church.  The women in my church were not sufficiently mature to do such counseling except perhaps for one or two, but none were trained in biblical counseling.  I did not like to do a lot of counseling of women.  I don't remember how I found the BACA Counseling Center which Lacy Couch was running, but it was located over in Ft. Worth only a few miles from my church in Arlington.  When I went over there to meet her and talk to her I found something I did not know existed! — Tyndale Theological Seminary.  Mal had started the seminary in light of a perceived decline in theological education in his view.  He was a graduate of "Old Dallas" (Dallas Theological Seminary).  He was not in favor of changes that were bringing about a "New Dallas."   I was a Ph.D. student at Dallas when I met Mal.  So our conversation was an interesting one.
Perhaps my fondest memory of Mal was his generosity.  For several years in a row he paid my way to the Dallas–Ft. Worth area to speak at the Conservative Theological Society annual meeting which he had started.  This is where I presented some of my first exegetical papers in a conference setting and where I explored some issues related to traditional dispensationalism, something that Mal and I agreed on in the general sweep of things.  To be sure we had some specific differences.  For years he would introduce me at his conference as his good friend but a congregational Baptist and used the moment to teach elder rule at my expense!  I once told him and the conference attenders I could follow elder rule as long as I was the elder!  We had some fun with our differences but I will remember Mal's generosity which allowed me to fly half way across the country to Texas and participate in these times of theological discussions.  I will always remember him also as a man who loved the Word of God.  I will miss Mal. But because of the truth that both of us believe, I will see him again at the resurrection.